How to Pitch Yourself to Guest on Podcasts
As an author, you know why you want to guest on podcasts, who your target listeners are, what topics you want to pitch, and where your target readers are listening.
So now the time has come to send that email pitch and get to serving listeners with your God-given message.
If you're scratching your head wondering if podcast guesting is for you, I encourage you to listen to episode three where I share nine ways guesting on podcasts helps build your author platform to help you reach more readers.
If you're new to podcast pitching, start with be sure to check out how to create your podcast pitching strategy so you know the why, who, what, and where to help make the most of your time especially if you are outsourcing podcast pitching to your VA.
On episode 33, I share some easy ways to find Christian podcasts that interview authors. Super helpful if you are outsourcing, and especially if you are DIYing it. I don't want you to spend all your time researching, I want you pitching and serving listeners with your God-given message.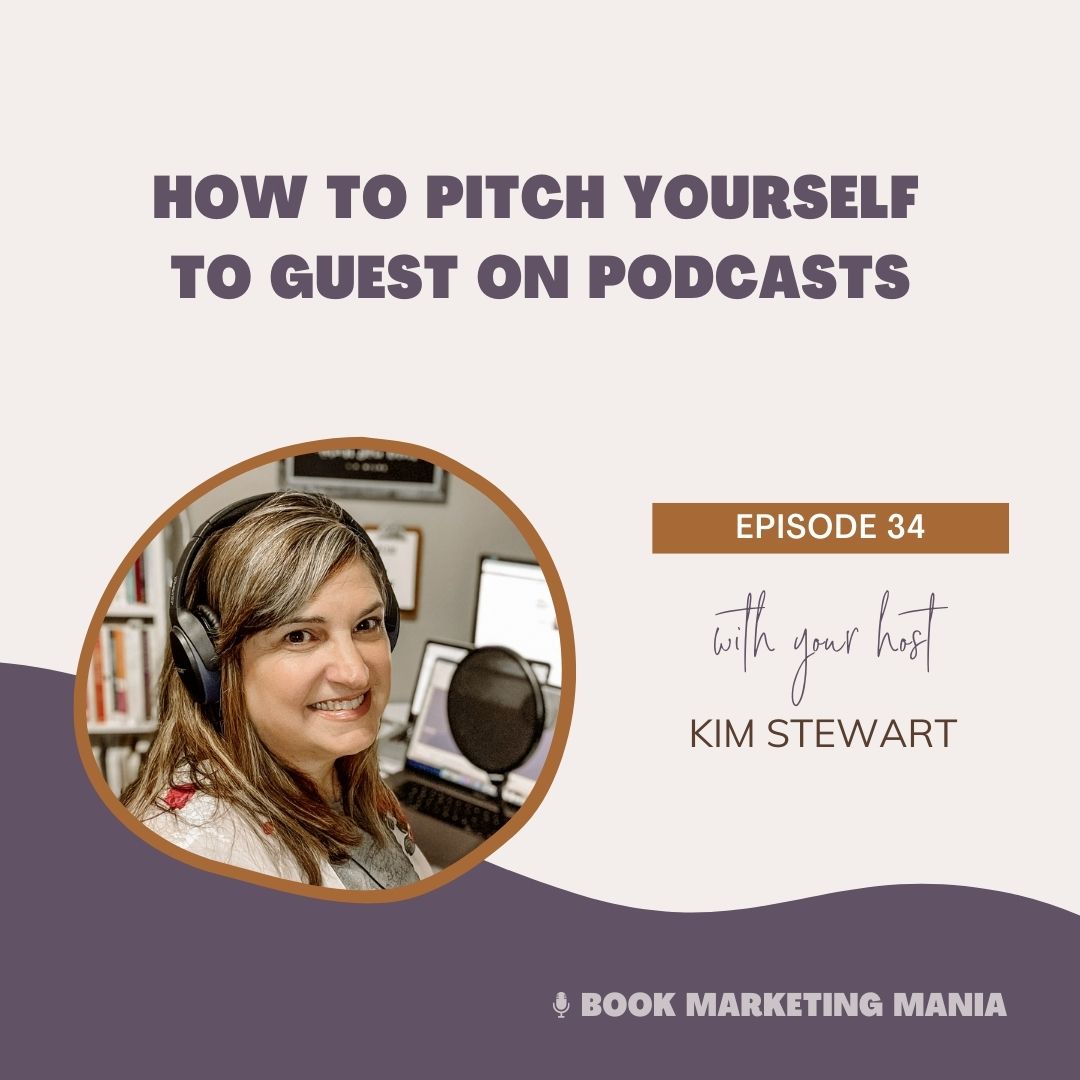 How to Pitch a Podcast
So let's get into the nitty gritty of how to pitch a podcast you want to guest on.
There is no cookie cutter approach to pitching podcasts. It's all about the value you are bringing to the listeners and the relationship you are building with the podcast host, and that differs from show to show.
You can find all kinds of podcast pitch templates online, but your pitch will stand out so much more above the others if you focus on building relationships first, service over selling by sharing the value you can bring the listeners, and let your personality shine through in the email.
No pitch template can do that for you, and don't send them the same email they are getting from everyone else that was downloaded from the internet.
Change things up and be creative.
What to include in your podcast pitch
There are a few things you want to include and personalize in your email and I go through each of them on this episode:
Subject line
Greet host by correct first name
Make a personal connection to the podcast host's mission and why you're reaching out
Brief "about me"
Topics you can share that bring value to the listeners (not just about your book)
Previous podcast guesting experience
How you will share the interview
Offer to send a copy of your book for their review
One or two links for their easy reference
Your closing
Finding Podcast Hosts' Contact Information
First, check their podcast homepage to see if there is a form linked, or email mentioned, for guest submissions. If so, respect the host's process and fill out the form.
If not, I recommend subscribing to their email list and this is two-fold. One, you'll get their current email address in their autoresponder, and two, you can reply and start building a relationship before pitching.
If they don't have an email list, go check out their Facebook page or Instagram profile. On Facebook, their email address is often in their About section. On Instagram, if they have a business account, there will be a tab for their email address.
Lastly, you could also DM them to ask in a short message, "do you have a guest submission process for your podcast?" I gave some additional thoughts on DMs in episode 15, but here I'll just say it will be so much more authentic if you've taken time to build a relationship first before asking in the DMs.
Resources mentioned
Past episodes on podcast pitching:
Episode 33: Easy Ways to Find Podcasts to Pitch (that interview Authors)
Episode 32: Creating Your Podcast Pitching Strategy
Episode 15: Six Ways to Build Relationships with Podcast Hosts (Before Pitching)
Episode 3: Nine Ways Guesting on Podcasts Helps Build Your Author Platform
Past episodes where my guests (also podcast hosts) share about receiving pitches:

Episode 9: Podcasting to Build Your Audience and Share Your Message with Misty Phillip
Episode 4: Using Instagram Authentically to Reach Your Target Readers with Ruthie Gray
Episode 19: Turning Your Podcast Into a Book with Krystal Proffitt
Episode 17: Marketing A Book When You're Made Like Martha with Katie Reid
Episode 31: Finding Joy in Marketing Your Book with Yvette Walker
Other resources:


---
Review the podcast
Would you consider writing a quick review to help other authors find the podcast? Just a sentence or two can help other authors discover the show, and I'd be so grateful!
Apple Podcasts app:
1. Click here and then click 'Listen on Apple podcasts' OR simply search "Book Marketing Mania" and pull up the show's main page.
2. Scroll down to "Ratings & Reviews", tap the stars to rate, and below that, click "Write a review".
Android/Desktop:
Click here to go to Podchaser, and then click "Rate Podcast".