6 Ways to Build Relationships with Podcast Hosts (Before Pitching)
Are you thinking of pitching yourself to be a guest on podcasts?
Whether you're a blogger or podcaster writing your first book, or you're an author ready to launch and share your message, guesting on podcasts is a great way to reach and serve new readers.
I'm all about service over selling.
Podcast hosts aren't looking for guests to come on and sell to their listeners. They are looking for guests who will serve their listeners.
Today I'm sharing six ways to build relationships with podcast hosts before you send your pitch so they know you are a guest who will show up to serve their listeners.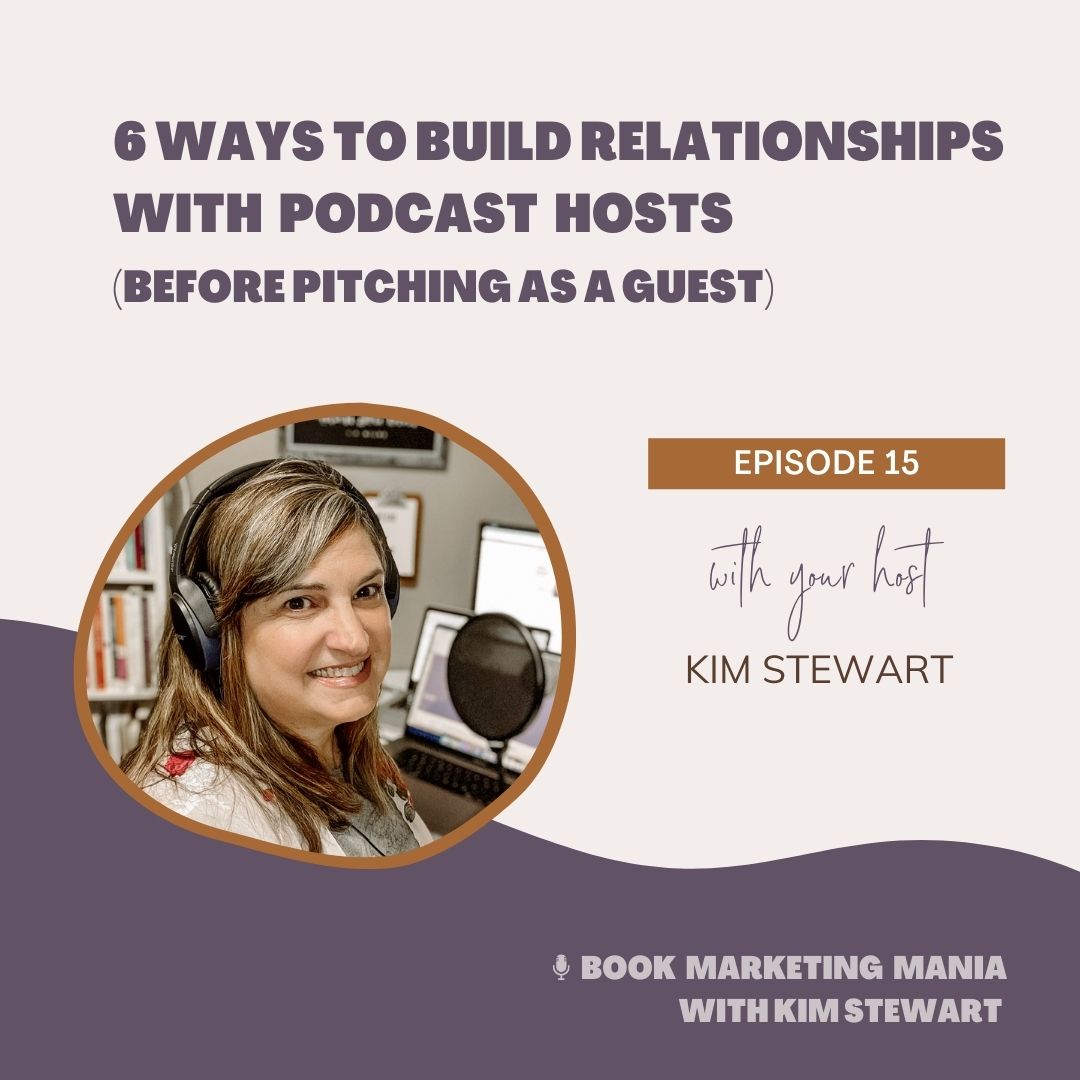 Leave a thoughtful review for their show.
Share their episodes with your friends and followers on social and tag the host.
Follow the host or podcast on social and engage with their content.
Reply to their Stories and start genuine conversations.
Subscribe to their email list + read and reply to emails.
If you are a podcast host, ask them to be a guest on your show first (if it's a fit).
Kim Stewart is a marketing strategist and host of the Book Marketing Mania podcast. She helps nonfiction authors reach new readers by guesting on podcasts. When she's not strategizing behind the scenes, you'll find her in Dallas enjoying time with her family, and indulging in coffee, caramel and Friends reruns.  
Resources mentioned:
9 Ways Guesting on Podcasts Helps Grow Your Author Platform
Podcast Pitching 101 Mini Course for Authors
Episode 4: Using Instagram Authentically to Reach Your Target Readers with Ruthie Gray 
Review the podcast:
Would you consider writing a quick review to help other authors find the podcast? Just a sentence or two can help other authors discover the show, and I'd be so grateful!
Apple Podcasts app:
1. Click here and then click 'Listen on Apple podcasts' OR simply search "Book Marketing Mania" and pull up the show's main page.
2. Scroll down to "Ratings & Reviews", tap the stars to rate, and below that, click "Write a review".
Android/Desktop:
Click here to go to Podchaser, and then click "Rate Podcast".