7 Ways to Share Your Interviews as a Podcast Guest
One of the biggest pet peeves I hear from podcast hosts is that their guests don't share their interviews. That's so disappointing because most of the time we as guests have asked for the incredible privilege to be their guest. Then they allow us to share our message with their listeners that they've worked really hard to serve well.
Then the episode airs and its crickets. No matter how many times a guest is given shareable images ahead of time, or tagged on social posts, the guests don't share. We have to do better and I do mean WE because I need to work on this myself.
Why share your podcast interviews?
In Philippians 2:4 (NLT), Paul writes:
Don't look out only for your own interests, but take an interest in others, too.
I like to check out the MSG version too because often it just hits home, especially from the lens of marketing our message:
Don't be obsessed with getting your own advantage. Forget yourselves long enough to lend a helping hand.
Marketing is all about relationships and helping others. Even sharing your interview once isn't enough.
Remember your goals for guesting on podcasts
Remember you have goals for being a podcast guest: building relationships, growing your email list, Selling books, growing your own show, building your platform and attracting a publisher, etc.
The more you share your interviews, the more people that will have the opportunity to listen and be blessed, and the faster you will meet your goals.
You don't have to do them all right away. This is a variety of ways to share, pick what works for you and in addition to sharing when the episode airs, plan to re-share it again and again in the future.
Why? Because the #1 return on podcast guesting is the relationships you build with hosts and how it leads to amazing collaborations and introductions in the future. And when you want to pitch your next book or burning topic on your heart, you'll be glad you stayed top of mind as the go-to guest when you continue to share your interviews.
Here are 7 ways to share your guest interviews
PREFER TO LISTEN? I GOT YOU!

This post may contain affiliate links. Read my disclosure policy here.
1. Share a graphic on social and tag your host.
This is the easiest and fastest one to do. Share a graphic on social and tag your host. This can be the graphic your host provides you, or take a screenshot as you're listening to the interview in your podcast player, or grab the image from their blog post.
My clients often ask what if the host doesn't let us know the episode has gone live?
Set google alerts with your name, the podcast name, and/or the name of your book so you'll receive an email when it hits the internet. You can also note on your tracking spreadsheet what day their episodes air on and set a reminder to check it each week. If you're already following the podcast in your favorite player, you'll see it pop up there too.
2. Create an audiogram and share it on social.
By creating an audiogram, followers can hear your audio snippet from the interview and likely want to check out the full episode to hear more. You can create them on:
Wavve (my favorite – super easy to use)
Headliner (my client Kristine Brown's favorite)
Canva (create a graphic and upload audio)
Spotify (share episode to social from their player
3. Create a short video to share about your interview on social.
If you are comfortable talking to camera, create a short social video sharing about your interview, what topic you covered and give a shoutout to your host (along with a tag).
If you're not a fan of talking on video or showing your face, take a short video of your screen as you're listening to the episode. You could still use your voice or if you're filming a reel make it fun with some trending audio and just put a text bubble or two with some quotes from your interview.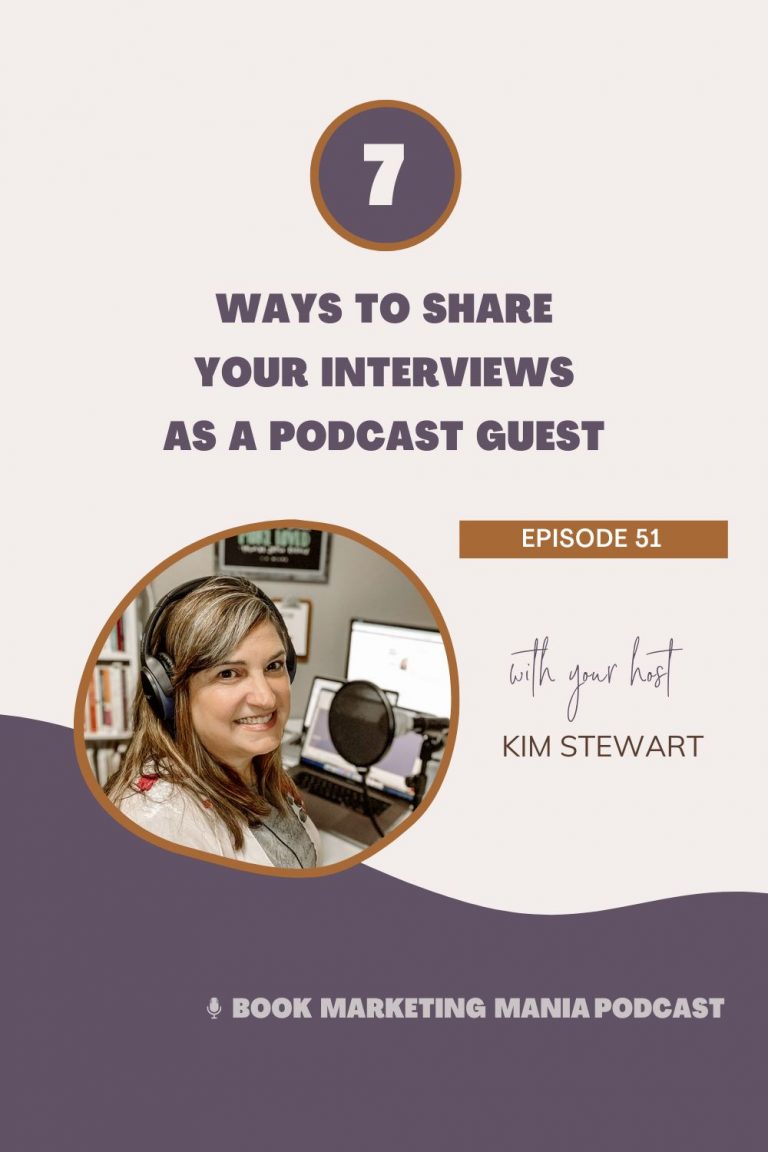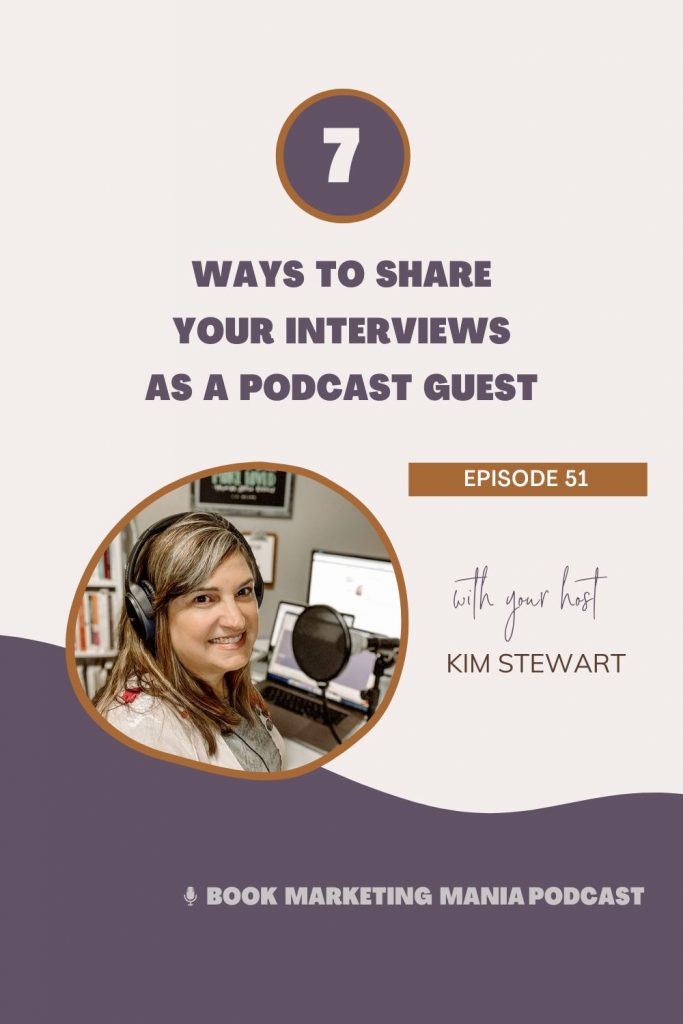 4. Share the interview with your email list.
My client Amy Debrucque, host of Life on Purpose and co-author of Embolden, does a great job of this. She includes the podcast graphic along with a blurb. She makes sharing her interviews part of her email content plan.
So she might share about the episode the day it airs on her IG stories, but then she puts it in her content rotation to share with her email list. So one week they might see it on her social, but a few weeks later they might read about it in her email list.
And for those of you groaning that interviews air all on the same day or week during your launch, and you think it's just too much to share, I have an idea just for you coming up in a future episode!
5. Share the interview with your podcast listeners.
You can give a shoutout at the beginning or end of your podcast episode to let your listeners know so they can go check out your interview. Podcast listeners love discovering new shows to listen to.
Buzzsprout's Dynamic Content feature is perfect for this. They are my podcast host and it's so easy to use. I'll be airing an episode all about creative ways to use dynamic content to build your platform and market your book on podcasts, so be on the lookout for it.
You could also air the interview on your own show if it's applicable to the message of your podcast. And spoiler, it always can be applicable, you just have to be strategic!
6. Add the interview to your media page.
When podcast hosts and event coordinators come to check you out as a potential guest speaker, they'll see where else you've been a guest and be able to listen to a sample of you speaking if you link to the interview. My past client, author Michelle Nietert, does a great job of this!
Plus, sharing your podcast interviews on your media page shows potential agents and publishers that you are actively serving your target readers today!
7. Add your interviews to a podcast playlist
Having a playlist of your guest interviews is an easy way to share them so others can see all the shows you've guested on and the different topics you can speak on, with audio samples.
It's super easy to create one on Spotify or Podchaser, or Listennotes.
Or if you want to get fancier, create your own Guestcast, which is a podcast simply for airing your podcast interviews. It's so genius!
Share your podcast interviews your own way.
Take these 7 ways to share your interviews as a podcast guest and do what works for you and your own readers. You don't have to do all of these and certainly not all at once.
Continue to share your interview as part of your content plan. It's great evergreen content and there are always new readers and listeners to share it with. And definitely tag your host when you do.
Podcast hosts might forget what you said, but they won't forget the way you made them feel, especially when you share your interview.
How to Pitch Yourself to Guest on Podcasts
Rate and

Review the podcast
Would you consider rating the Book Marketing Mania podcast and/or writing a quick review to help other authors find the podcast? I'd be so grateful!
Apple Podcasts app: Scroll down to "Ratings & Reviews", tap the stars to rate, and below that, click "Write a review" if you'd like. Thank you!
Android: Podchaser is the only place for Android reviews at this time.
Click "Rate Podcast" and leave your rating/review. Thank you!