Using Instagram Authentically to Reach Your Target Readers with Ruthie Gray
Who would've thought we'd be living in times where dancing and lip syncing and pointing to text on video would be the way to meet new readers and market our nonfiction books?
… Or is it?
Instagram is one of the most popular social media platforms for authors to hang out on these days. But what if you don't like recording the types of videos that Instagram is prioritizing these days?
What about posting pictures in the feed? What about Stories?
How do I engage with my current readers and find new ones?
You have questions. My guest, Ruthie, has answers.
My friend Ruthie Gray is an online marketing coach for female entrepreneurs, and host of the Authentic Online Marketing Podcast. She specializes in teaching relational marketing, specifically how to do it best on Instagram. And she's my go-to gal for learning how to use Instagram authentically.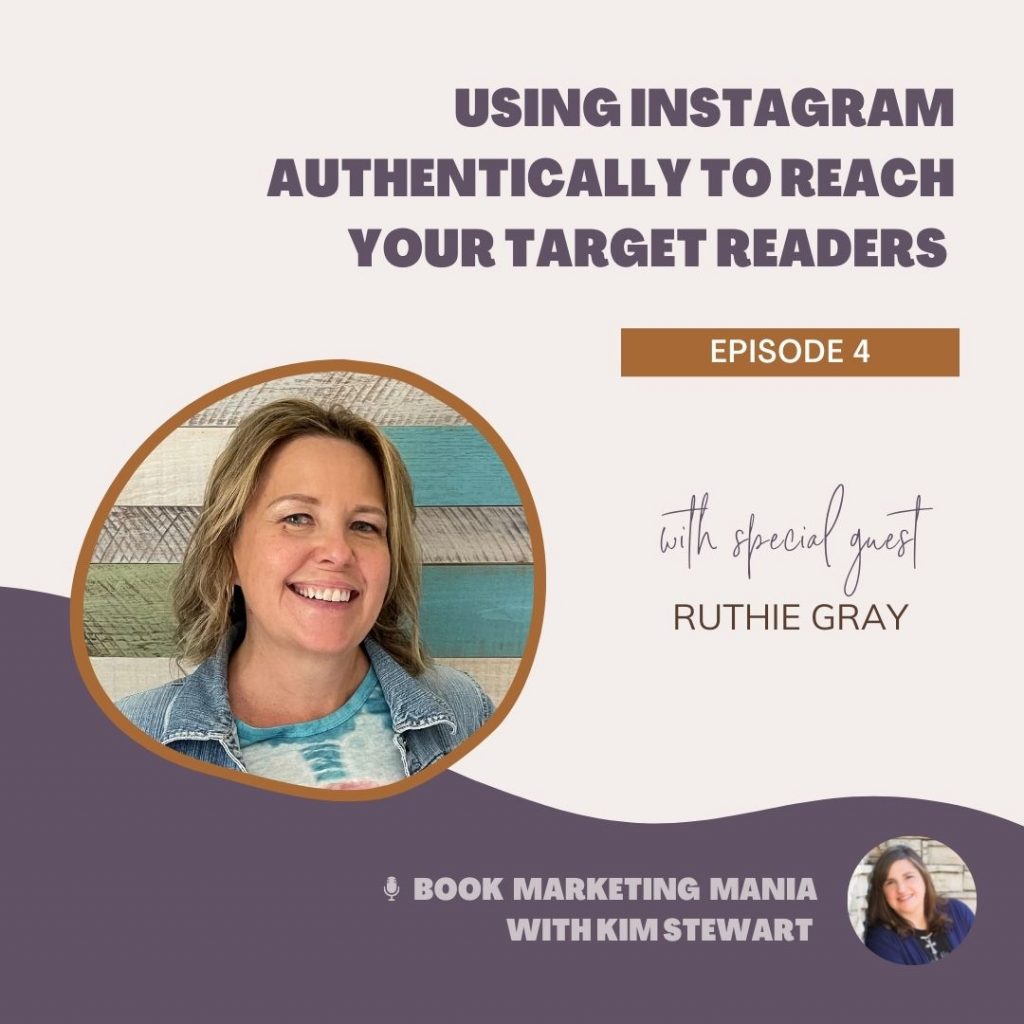 This post may contain affiliate links. Read my disclosure policy here.
Ruthie shares all about:
Connecting authentically with your "ideal" followers (readers and book buyers)
Balancing your time between posting and engaging
Ideas for what to post other than "buy my book"
Writing attention-grabbing captions in your posts
How to use hashtags effectively both in your posts and to find new readers
How to engage with podcast hosts on Instagram before sending a guest pitch
Her client success stories of using Instagram to market their books
Her new Reels training to help you get started with what's working best right now
Ruthie Gray is a wife, a Gigi, and empty nester mentoring moms in home and business. She specializes in relational marketing and teaches her community marketing framework within her 8-week Authentic Marketing Intensive, and subsequent Authentic Marketing Membership. Ruthie is also the host of the Authentic Online Marketing Podcast. Connect with Ruthie on Instagram because that's the playground where she spends most of her days.
Podcast: Authentic Online Marketing Podcast
Website: RuthieGray.Mom
Instagram: @authenticonlinemarketingpod
Resources Mentioned:
How to Use Reels and Stories for Your Brand (Authentic Online Marketing podcast)
How to use Hashtags on Instagram (Authentic Online Marketing podcast)
How She Secured a Book Deal on Instagram with Jamie Bailey (@expedition_marriage)
(Authentic Online Marketing podcast)
Brenda McDearmon @texasoverfifty
Podcast Pitching 101 for Authors Mini Course
Prioritizing and Taking Action on Your Book Marketing Ideas with Christa Hutchins (Book Marketing Mania podcast)
9 Ways Guesting on Podcasts Helps Build Your Author Platform (Book Marketing Mania podcast)
Review the podcast:
Would you consider writing a quick review to help other authors find the podcast? Just a sentence or two can help other authors discover the show, and I'd be so grateful!
Apple Podcasts app:
1. Click here and then click 'Listen on Apple podcasts' OR simply search "Book Marketing Mania" and pull up the show's main page.
2. Scroll down to "Ratings & Reviews", tap the stars to rate, and below that, click "Write a review".
Android/Desktop:
Click here to go to Podchaser, and then click "Rate Podcast".