How to Be a Great Podcast Guest
Once you receive the reply to your pitch and the podcast host invites you to be on their show, then what? How can you surprise and delight your host and listeners by being a great podcast guest?
It's such an honor for a podcast host to invite you onto their platform to serve their listeners. It's like being invited to their home, and you are the guest of honor. You want to show up well, give them a good experience, and get asked back again, right?
Here's what you can do before, during, and after the interview to help you be a great podcast guest.
Prefer to listen? I got you!
Before the interview
You receive an email reply from the podcast host you pitched, and they say yes, they'd love to have you on the show. Or if you've prioritized building relationships with hosts, you may receive guest invites without pitching at all.
First, respond promptly.
If you are a traditionally published author with a PR agency pitching you to podcasts around your book release, they will typically take care of these scheduling details for you.
If you are pitching podcasts before you write a book to build your platform, or if you are a self-published author who does not have a PR firm, or you're a traditionally published author pitching to guest LONG after your book release, here are some details for you to note.
If the host has great guest systems in place, you'll receive a link to their scheduler to pick a time that works, and a form to fill out some basic information like your website, bio, social links, book information, topic to discuss, etc. They may even include a spot for you to share your free lead magnet. Or they may email you to coordinate and request what they need.
If they ask for a copy of your book, send it promptly so they have time to review and prep for the interview.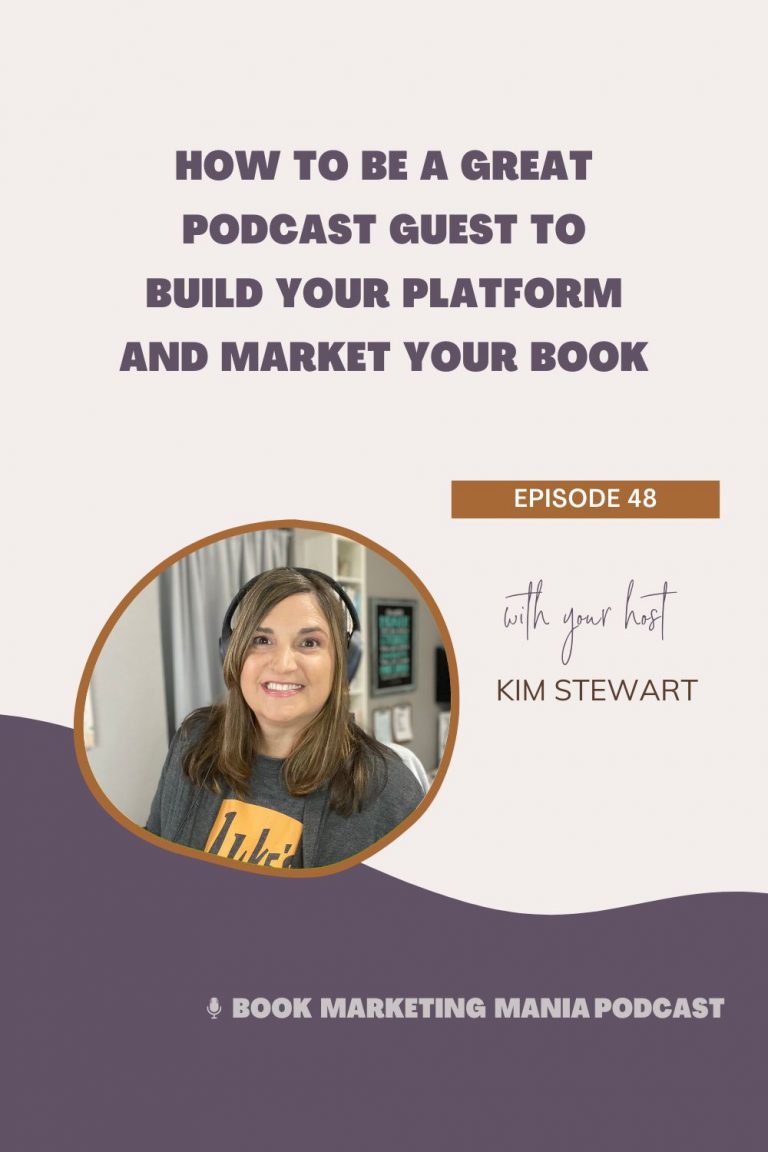 This post may contain affiliate links. Read my disclosure policy here.
If you are pitching yourself to guest on podcasts, let's talk about the best moment ever … when a podcast host replies and says "yes, I'd love to have you as a guest on the show".
If they don't ask for anything, I like to follow up with a quick email about looking forward to the interview and include your guest resources for easy reference. Include:
Phonetic spelling of your name
Your Bio
Media kit if you have one (either PDF or a link on your website)
Social links
Headshot
Sample questions
Free resource to share if they would like to
Start thinking about how you will share your free gift for the listeners during the interview, or at the end, in a short and sweet way.
Dr. Saundra Dalton-Smith shares great suggestions on how to build your email list through media interviews.
Add the interview details to your calendar.
You want to be sure to show up where you should be on the day of the interview. If systems are in place you'll receive a calendar invite in your email from the podcast host.
Make sure you know:
Is it recorded live?
Is the interview audio or audio and video?
Will the video be published or used for marketing (or just for you two to see each other during the interview?) That way you'll know if you need to be camera ready or not.
Where to connect (did they send a link or will they send it the day before?)
It's a lot of details to keep up with, so have a system in place.
Once your interview is booked, keep engaging with the host and nurture the relationship.
Building a relationship with your podcast host makes the recording so much more personal. Podcast guesting is never a "one and done", there's so many cool things that can come from building relationships with hosts and listeners.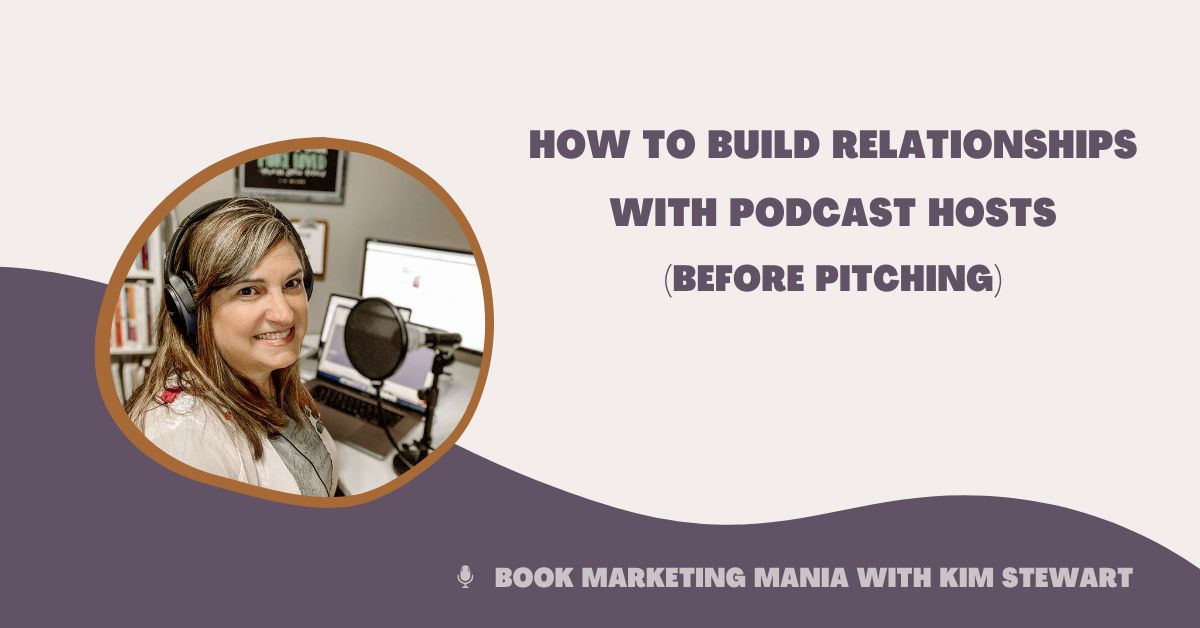 Hopefully you've done your homework on the show and who they're audience is before pitching them, but if not be sure to see who they speak to so you can personalize your responses to them. Do they talk to women, certain season of life, moms, wives, parents…new believers…? Ask the host if you need to.
Also be thinking of sticky statements from your book, content, and sound bites that will make it easy on the host to promote your episode, and for you to repurpose later.
Prep and test your tech.
You want to sound the best you can so you can share it, re-share again in the future, repurpose it as you'll always discover you say all kinds of great quotes when someone is interviewing you.
Best microphone is a USB dynamic microphone that plugs into your computer like mine (it's dropped $20 since I bought it) or this one that comes highly recommended. I also started with this microphone stand and have recently moved to this boom arm so I can record freely without space concerns.
Dynamic microphones are preferred over condenser ones though I have friends using condenser successfully. I just found that with a condenser it picked up my son playing video games in the next room. Yiked!
Best headphones are USB over-the-ear headphones that plug into your computer.
Luckily, if you're a podcaster as a guest, there's no excuse, you already have this equipment.
If you don't have that tech setup, hopefully you have earbuds that plug into your computer that come with a built-in microphone. But I will say that can sometimes carry an echo. Wireless earbuds are not typically recommended for podcast interviews.
Test tech with a friend (even better if they're a podcast host themselves). Jump on a quick Zoom call and make sure your settings are appropriate for microphone and headphones, and record it so you can listen and see how it sounds.
What happens if your tech fails? If you want to hear more scoop from a guest's standpoint, especially about tech nightmares, my client, author Kristine Brown, shares five lessons learned from her first five podcast interviews.
Double check your interview details the day before.
Set a reminder to check in the day before. Make sure you have all the details of where to connect and how, how long the actual interview will be, how to pronounce the host's name, who the listeners are, and the topic you'll be talking about.
Think of sound bites you can share. Keep in mind that many times hosts will ask at the end of the interview "anything else you'd like to share"? Be strategic here. Is there anything that if it doesn't get covered in your interview you want to be sure and share with this audience?
Right before the interview.
Here are ways to prep right before going online with your podcast host:
Make sure you are in a quiet setting.
Check your wifi connection.
Plug in your headphones and microphone.
Be camera ready if you'll be on video and it will be shared.
Silence your phone and desktop notifications.
I like to have a sticky note with the phonetic spelling of the host's name, the podcast name, and who their listeners are.
Pray before your interview starts. I've started asking for God to calm my nerves, for some reason I get more nervous when it is someone I've already built a relationship with. Pray that your conversation will glorify God and that you'll be open to the way He directs the conversation to go.
During the interview
Let the host ask the questions and guide the conversation.
I need to work on this as I get excited and passionate and forget the question. How embarrassing!
I like to also think of ways I can drop in mentions of a past episode of the show, or even a guest episode where the host has been a guest on other podcasts. Make the host look good.
Plus when you listen to them interviewed on other shows you typically learn tidbits you didn't know and they're great connection points you can mention to build your relationship.
As the episode wraps up, remember two things.
A special point you'd like to share that you didn't get around to talking about when the host asks "anything else you'd like to share?"
Your short and sweet way you are going to invite listeners to connect with you after the interview.
After the interview.
Whew, the host has hit "stop recording" and if this is your first interview, you did it! You can breathe a sigh of relief.
Be sure to thank the host
It's such an honor that they've allowed you time on their platform to reach the listeners they've worked hard to bring together. I always thank them at the end of the interview but I'm not so great at follow up afterwards. Something I need to get better at.
Share the interview on social, and tag your host
The biggest pet peeve I've heard from podcast hosts who interview guests is the interview doesn't get shared. You wouldn't believe how many times this DOESN"T happen.
Though I always try to think of connections I can help them make after the interview.
The saying is true that the host might forget what you said or did but they won't forget the way you made them (and their listeners) feel.
Remember, podcast guesting and book marketing is all about building relationships and helping people.
Show up to serve well as a great podcast guest and you'll be the go-to guest everyone wants to have on their show.
Related Book Marketing Mania episodes:
Connecting with podcast hosts before pitching
How to Be Your Own Publicist with special guest, Dr. Saundra Dalton-Smith
5 Lessons Learned from my first five podcast interviews with special guest Kristine Brown
Rate and

Review the podcast
Would you consider rating the Book Marketing Mania podcast and/or writing a quick review to help other authors find the podcast? I'd be so grateful!
Apple Podcasts app: Scroll down to "Ratings & Reviews", tap the stars to rate, and below that, click "Write a review" if you'd like.
Android: Podchaser is the only place for Android reviews at this time.
Click "Rate Podcast" and leave your rating/review.