11 Ways to Host a Podcast to Market Your Christian Book
If you are launching a new book this year, or looking for new ways to market your Christian book to new readers, look no further than hosting a podcast.
Yes, hosting a podcast.
We've talked a lot on the blog about guesting on other people's podcasts, which is still hands-down my favorite way to build your email list and market your book.
But what I've also discovered is how much hosting a podcast also elevates your visibility to new readers, gives you credibility as the go-to guest on a particular topic, and makes it so much easier for a host to say yes to having you on as a guest because they know as a fellow host you know a thing or two about recording a podcast episode.
Now I know you may have thought about starting a podcast for a while now, but something is holding you back. perhaps it's that:
it will take up too much time
it will be too hard to do it all alone
you don't think you'll be able to keep up with it week in and week out
Well I have great news for you today.
There are a variety of ways to host a podcast, and it's no one size fits all.
And as the host of your own podcast, you get to do it YOUR WAY.
So I wanted to share 11 ways you can host a podcast in case you're not quite ready to commit to a weekly show but you want to test out the waters of what it would be like to host your own podcast.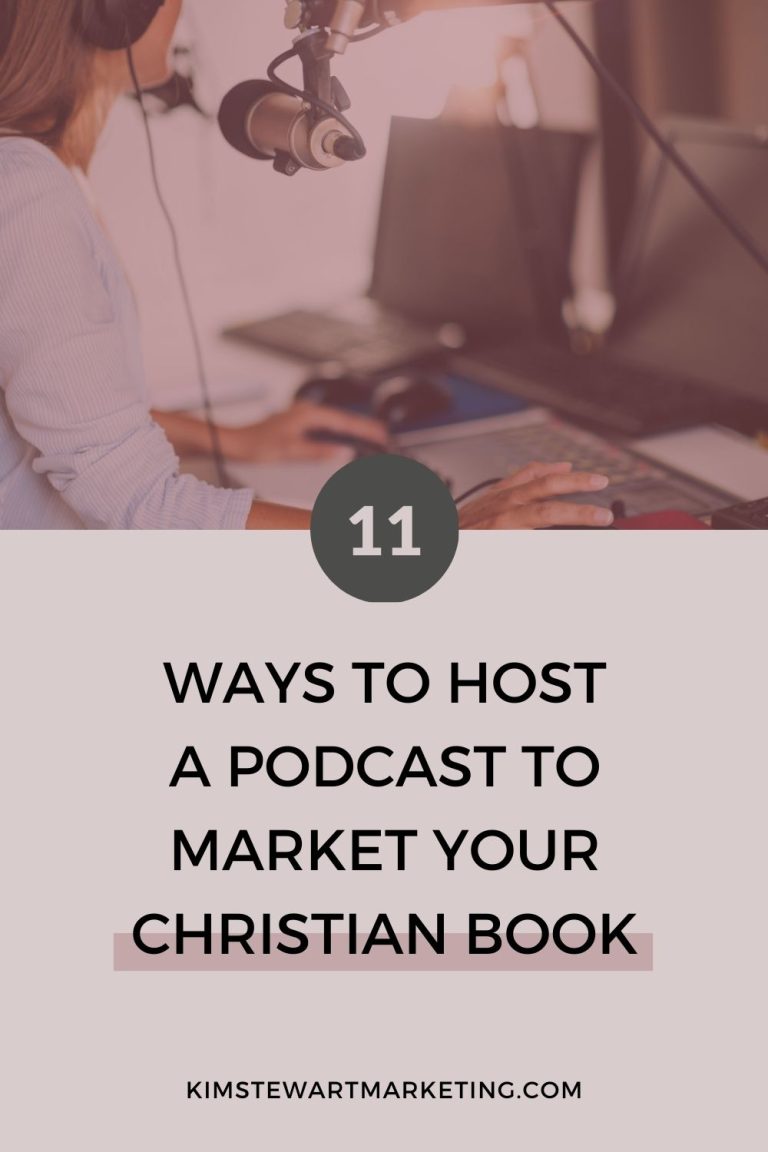 And because this is Book Marketing Mania we're going to talk about how to use each one to market your books in less time!
I especially love that by hosting a podcast of any kind allows you the opportunity to offer a swap to a host you are pitching to be their guest. More on that later.
And all of these ideas except for one, allows you the beauty of evergreen content that lives on forever helping you to market your books in less time.
And as you hear each of these remember it's your show you can do it your way. You just want to be consistent at showing up for your listeners whether you air episodes:
Weekly
Biweekly
Monthly
Seasonally
You do you, and make sure to communicate your schedule and when to expect the next episode with your listeners.
Here are 11 different ways to host a podcast you can market your Christian book on:
#1 Host an interview podcast
When you host an interview podcast, each episode you interview guests related to the mission of your show and the focus is typically on the guest, and marketing their Christian book.
Hopefully you will reach new readers through your guests sharing their episodes with their own platforms of followers and email subscribers.
Plus interview-style podcasts allow you to make connections with each of your guests and you never know what collaborations might come out of it to help you grow your platform and market your book.
Now, two things about an interview show.
If you are wanting to grow your own podcast to market your Christian book, the #1 way to do that is to be a guest on other people's podcasts. In episode 66, I shared four things to do first especially if you have an interview show, and one of those is to air a few solo shows here and there strategically around the time your own guest interview airs, and especially around the time of your own book launch.
As new listeners discover you on their favorite podcasts and hop over to check out your own show, you want them to hear you more than your guests, and have the opportunity to hear more about your unique message and book more than your guests.
Now if you're not into airing solo episodes, something else you can do on an interview style podcast is air one of your interviews with you as a guest. Get permission from the other host (which of course they'll say yes to reach more listeners), and air it with a short introduction for your own listeners. That again will allow listeners to hear more of your own expertise.
PREFER TO LISTEN? I GOT YOU!
#2 Host a solo podcast
On a solo podcast, each episode is simply you behind the microphone delivering content related to the mission of your show. This is a great way to build your email list and market your Christian book as each episode is focused on your expertise and your unique way of serving the felt need of your future readers.
On each episode the call to action is joining your own email list, not someone else's. Marketing your book, not someone else's.
Now, I will say, even if you do a solo-only show, be open minded about having guests occasionally. Like I mentioned before, if you are wanting to grow your own podcast, the number one way to do that is to be a guest on other people's podcasts.
And the number one way to get a yes to being a guest is being able to offer a swap.
This can be offered at your will and discretion and planned out strategically ahead of you pitching to be a guest on other people's shows.
You could plan a special series and plan out guests you want to invite who are podcast hosts themselves with shows you'd like to guest on. You could plan out the content of your series first, or plan out the guests first and build your series around that.
Your goal could be to build your email list. You could air part of the interview on your podcast, and hold part of it for a private podcast only available for email subscribers. More on that private podcast in a bit.
You could plan the timing around your book launch, or preorders, and interview people specifically around the topic of your book and choose different angles for each guest.
I hope you see that the sky's the limit with podcasting.
It's your show, you do it your way.
Need some help strategizing how to host a podcast to help grow your author platform and market your book? I'd love to work with you!
#3 Host a podcast with a mix of interviews and solo episodes
That's how my Book Marketing Mania podcast is. I started out with more interviews because I had a long list of guests I wanted to ask ALL the questions of, and learn from, around marketing your Christian book, and learn from.
Then when I wanted to niche down my podcast more towards my expertise of marketing your book on podcasts, I leaned more into solo episodes because there was so much content I wanted to deliver and so little time.
Now it's a mix of both solo and interviews and I love that and think it serves my listeners like you really well.
Now let's talk about ways you can co-host a podcast because I know you may not want to start a podcast alone, and you get way more excited when you get to start a new project alongside someone else. There's lots of ways to even have a co-hosted podcast.
#4 Co-Host a podcast with a friend so you're not doing it alone
If you're looking for a great example of a co-hosted podcast with friends, check out my friends, Alana and Jaime, of the Praying Christian Women podcast.
I think they've been at it for 4.5 years now so I'd say it's a success! I love that some episodes are the two of them, and some episodes one of them takes the mic solo to interview a guest. Again, when you host a podcast to market your Christian book, do it your way!
#5 Co-host a podcast with multiple co-hosts
A great example of a show with multiple co-hosts is one of my favorite Christian podcasts, More Than Small Talk with Suzie Eller, Holley Gerth, and Jennifer Watson.
I love how they tackle a topic more conversationally and even if they have a guest on, they follow it with an episode with just the 3 of them. If this type of podcast interests you, I would definitely listen as they have certainly mastered the craft of passing the mic around 3-4 people during an episode to market your Christian book.
#6 Co-host a podcast with a new co-host each season
A great example is the Candace Cameron Bure podcast. Even though Candace has seasonal co-hosts, she also hosts episodes herself as the only host interviewing a guest.
No rules, ya'll! It's your show!
#7 Host a podcast with an occasional co-host
My friend, Carmen Horne, host of Your Hope Coach podcast is doing an amazing job with this idea she came up with.
Carmen releases episodes biweekly and every other episode she's joined by her co-host, Kristine Brown.
I love this format because you get the best of both worlds. You get solo episodes with Carmen and get to know her as an author and a host marketing her Christian book and then she gets to share the workload with Kristine as a co-host on half the episodes. Plus we get to know Kristine better as an author too.
What's even cooler is that Kristine started her own Youtube channel at the same time and is including the podcast episodes on her channel. So if her and Carmen's readers prefer video content over audio, they have them covered!
Remember: no rules, it's your show.
Do what works for you, what you can be consistent with, as that will help you avoid Podfade.
If you're not familiar with that, its when a host starts a podcast and about 10 episodes in they have a change of heart and stop releasing episodes and fall victim to Podfade.
So these next few ideas can help with that for sure!
#8 Host a capsule podcast
Betsy Wallace cohost of the Dinner Sisters podcast, coined this term a few years ago for a six-episode podcast and you may have heard my friend Wren Robbins talk about it on episode 35. She calls it a "set it and forget it" podcast.
The idea here is you record and release just a capsule of podcast episodes. It's very strategic around one topic to give your listeners a taste of what's to come … like your book or a course or a membership.
A capsule podcast has short easy-to-consume episodes that your listeners can binge listen to, all with the goal of them getting to know you and your offer better.
For example, one of the capsule podcasts Betsy created for a client was a cookbook author launching a quarterly subscription box. So each quarter at launch time, she released a companion capsule podcast at the same time so listeners and subscribers could learn more about the cookbook and other products included in the box and the story behind why she chose them.
I always thought a capsule podcast would be fun around a writing conference, ahead of registration, where you hear interviews with the speakers, past attendees, basically a taste of what you'll get at the conference.
With a capsule podcast, you won't be overwhelmed with the commitment of starting a weekly podcast. It'd also be a great way to test out a topic you're thinking of podcasting about for a longer period of time.
Remember, if your target readers are listening to podcasts, why not give them some audio content from you too?
Now you might wonder, if I just host a capsule podcast with a short number of episodes that aren't ongoing, how in the world will new listeners and readers discover it?
Well, by you guesting on podcasts and sharing your own podcast as your call to action for them to listen to and learn more.
Check out episode 66 to learn more about growing your own show by guesting on others.
A Capsule podcast can also serve as an audio version of your lead magnet. Two great examples I've seen of this is:
Jenna Kutcher's Email List Building Course podcast (Six 8-minute episodes)
John Lee Dumas' Free Podcast Course (Ten 10-minute episodes)
One thing I don't hear about is having guests on your capsule podcast. I've been recommending this to clients so hopefully someone will take me up on it. It's a great way to offer a swap to shows you want to be a guest on, if done strategically in the beginning.
If that is of interest to you, book a session and let's strategize how to use a capsule podcast to market your Christian book.
#9 Host a private podcast
With a private podcast, you provide your listeners with a link to access the content, they can add your private podcast to their preferred podcast app to listen to and get updates as you release them.
You may have already seen these in memberships you belong to, or courses you're purchased where they provide audio lessons on a private podcast. So you might log into your membership or course and see trainings there or if you subscribe to the private podcast, you would get hte same training in audio form inside your podcast player.
But you can also use a private podcast as your lead magnet as you collect email addresses to be able to access it.
My friend, Shelley Hitz, does this with her Hitz Blitz private podcast. She releases super short impactful episodes, just a few minutes long, Monday through Friday.
If your target readers listen to podcasts (and I'm guessing they do), they will love listening to a private podcast! It's a great way to wet their appetites for what's coming in your book while they are getting valuable and related content from you in their ears.
If you have a book releasing in the fall for moms, your private podcast could lead up to the launch with super short episodes of encouragement. Imagine your target readers getting to binge listen to mom tips as they sit poolside this summer.
You could also use the private podcast for your preorder bonus. Create some super exclusive content centered around the felt need of your readers at this season of life.
This is where I think you can be super strategic again like I talked about on the capsule podcast idea. You could have guests on your private podcast. Whether it's released as a preorder bonus, or at other times to help promote your book, having guests around a super niche topic related to your book would be amazing!
#10 Host a pop-up private podcast
The pop-up private podcast was coined by Magan Ward who created a whole system around hosting one.
So as we talked about, a private podcast is just that, private and available by email signup only. But with the pop up aspect, it's available only for a limited time. It's more like an event, say 3-5 days of episodes. You subscribe, listen to the episodes, and then the podcast goes away. It really feeds into FOMO (fear of missing out).
My friend Lindsey Johnson from episode 10 recently hosted a pop up podcast as a lead magnet for her copywriting course launch.
A pop up private podcast could be solo or with guests.
Think of it as a great last-minute pitch for preorders and have the content be super exclusive and again something that meets the felt need of your readers at that exact moment.
#11 Host a Guestcast
This was the genius idea of my guest, Thomas Umstattd, Jr., host of the Christian Publishing Show. He shared about a Guestcast on episode 27.
A Guestcast is so super cool. It's a stand alone podcast and the episodes are all of your guest appearances on other shows. Not that you couldn't sprinkle in some solo episodes or interviews of other guests, if you find you love this idea, but the primary goal is to share interviews with you as a guest, hence the name, Guestcast.
What's really cool is your get the link directly from the podcast host you interviewed, and once you setup your Guestcast, any downloads from it are attributed directly to that host. When your next book comes out, you'll have a lot more confidence pitching a show a second time to guest on knowing that they were receiving downloads all along the way just because of your Guestcast.
Now there is more behind-the-scenes tech help needed with a Guestcast vs. hosting your own show, and again it's all in episode 27 with Thomas.
One thing I noticed too is when I search my podcast name, Thomas' Guestcast comes up because he has my podcast name in the title of his episode airing his interview on my show. So anyone searching out my show is likely to discover Thomas too.
Again, a Guestcast is a stand-alone podcast. You can always air your interviews with you as a guest on your own show like I talked about earlier, but that's a podcast episode on your own show, not what we're calling a Guestcast.
WHEW that's alot of options for hosting a podcast and marketing your Christian book. I hope one stands out to you to take advantage of!
As always, do what works best for you and your target readers and listeners and what works best to meet the goals you've set for yourself.