Prioritizing and Taking Action on Your Marketing Ideas with Christa Hutchins
You know that feeling that there's too much to do to market your book and not enough time to do it? We can get so overwhelmed by all our ideas and start spinning our wheels on all the things yet get nowhere near achieving our marketing goals.
That's why I invited my friend, Christa Hutchins, to be my guest on Book Marketing Mania. Christa is a nonfiction author and Accountability Coach, and the absolute best at helping you prioritize your ideas, map out a doable plan and keep you accountable to moving forward on things you said you were going to do.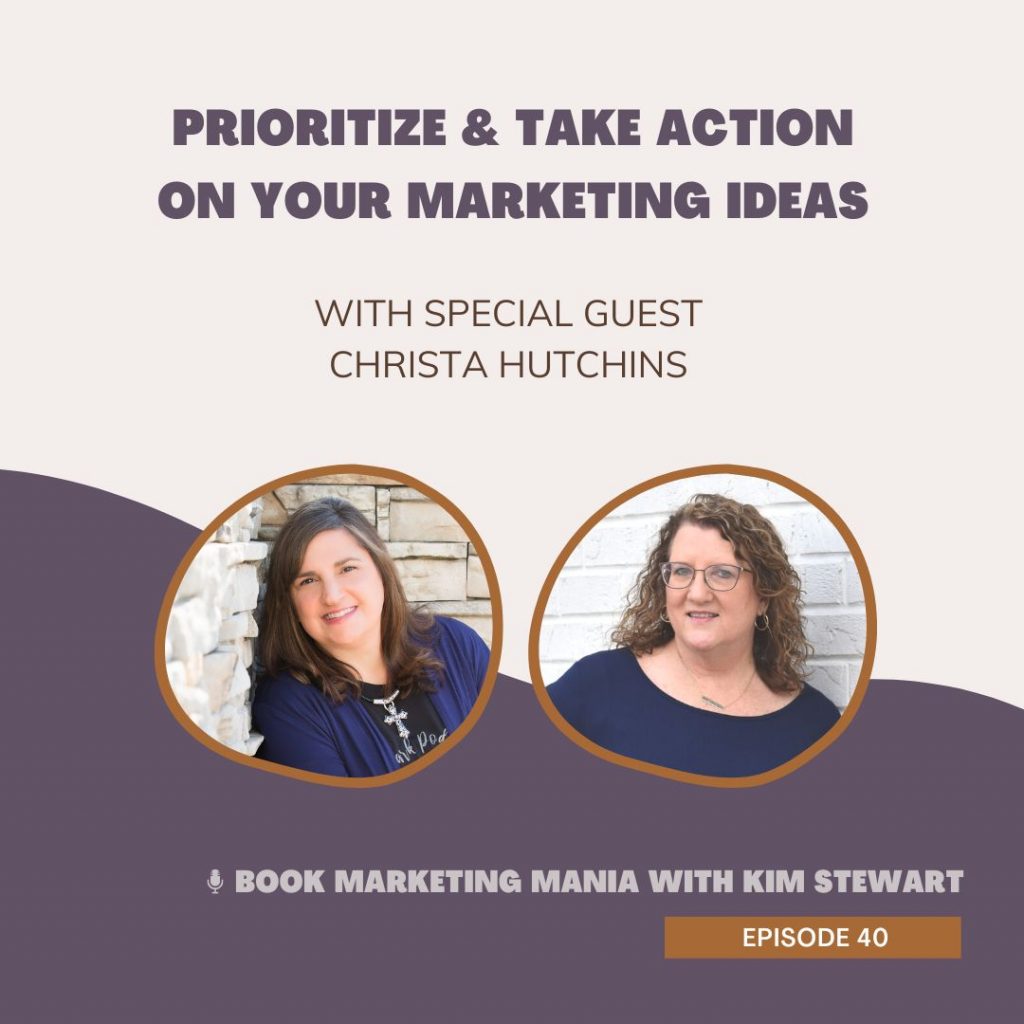 This post may contain affiliate links. Read my disclosure policy here.
In this episode, Christa shares how to:
Capture and prioritize all your marketing ideas
Evaluate your ideas against your pain points that keep you from marketing your book
Create an actionable marketing plan customized to the resources you have
Organize the ideas that don't fit on your plan right now
Stay accountable to doing what you planned to do
Begin outsourcing marketing tasks to a VA
Resources mentioned:
Free: Planning Six Pack & "What Type of Stuck Are You?" Quiz
Podcast: Just One Simple Thing
Book: Moving Forward: Inspiration for the Go-Getter Jesus Girl
Website: Do A New Thing
Christa Hutchins is a wife and mom, an Accountability coach, host of the Just One Simple Thing podcast, and nonfiction author of Moving Forward: Inspiration for the Go-Getter Jesus Girl. Christa equips busy communicators and leaders with project management and problem solving skills so they can turn their big ideas into a successful ministry or business. She is passionate about teaching women to find practical application of the Bible in their personal, professional and ministry lives. Christa lives in south Louisiana with her husband in their delightfully empty nest.
Review the podcast:
Would you consider writing a quick review to help other authors find the podcast? Just a sentence or two can help other authors discover the show, and I'd be so grateful!
Apple Podcasts app:
1. Click here and then click 'Listen on Apple podcasts' OR simply search "Book Marketing Mania" and pull up the show's main page.
2. Scroll down to "Ratings & Reviews", tap the stars to rate, and below that, click "Write a review".
Android/Desktop:
Click here to go to Podchaser, and then click "Rate Podcast".