Growing from the Inside Out While Marketing Your Books with Courtnaye Richard
It's so hard to trust in what we can't see at the beginning of a new year (not to mention year three of COVID). My guest today is all too familiar with this.
Courtnaye Richard is the author of Inside Out with Courtnaye, a 52-week devotional to help us grow from the inside out one week at a time. I couldn't wait to have Courtnaye on the Book Marketing Mania podcast to encourage us all as we grow in our walk with God, while he's walking us through our book marketing plans.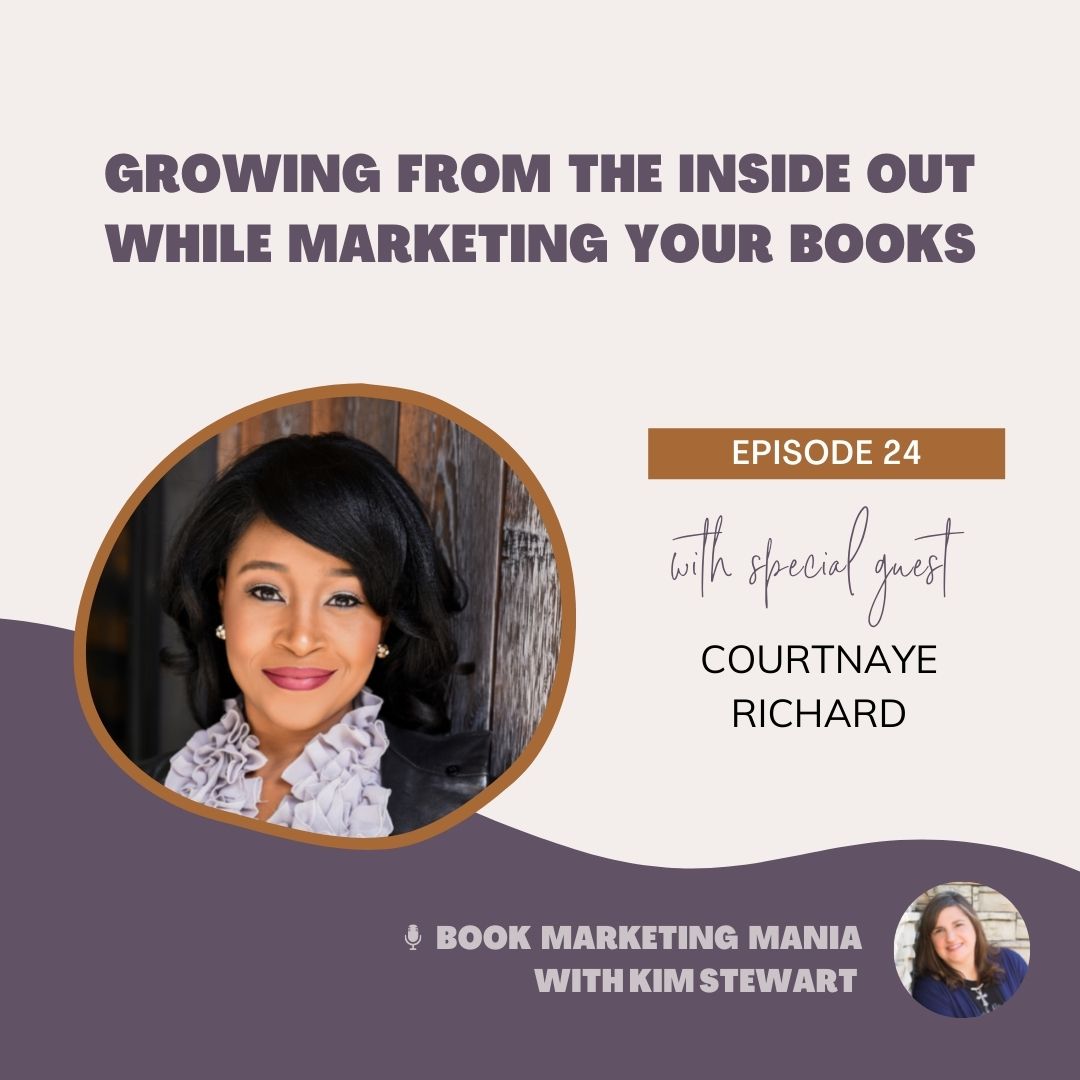 In this episode, Courtnaye shares:
How to strengthen your faith walk while waiting on God to move in your life (Courtnaye launched her book during our COVID shutdown)
How to set boundaries to make time for self care when marketing your book
How to connect and communicate with new readers (and what lead magnets have been effective for her)
How she collaborates with other authors and features them in her online magazine
How to pitch the media & speaking opportunities (and how she mentors authors and speakers through her agency)
Courtnaye Richard is the founder of Inside Out Media Group, LLC – a faith-based PR, Marketing & Mentorship Agency. In her 15 years of experience, she has worked with platforms such as PBS, CBN, TCT, Yahoo, including local television and print publications. Courtnaye is also the founder of Inside Out with Courtnaye, a ministry that helps women grow in Christ, while equipping them for their calling. She is an author, contributing writer for ibelieve.com and YouVersion. Her speaking appearances include She Speaks, FlourishWriters, and Entrusted Women's Conference. Her blog, Inside Out with Courtnaye reaches thousands of women across the globe!
Resources mentioned:
Inside Out with Courtnaye (52-week Devotional)
Courtnaye's Website
Courtnaye's Agency
Courtnaye's Magazine
Courtnaye's Facebook
Courtnaye's Instagram
Review the podcast:
Would you consider writing a quick review to help other authors find the podcast? Just a sentence or two can help other authors discover the show, and I'd be so grateful!
Apple Podcasts app:
1. Click here and then click 'Listen on Apple podcasts' OR simply search "Book Marketing Mania" and pull up the show's main page.
2. Scroll down to "Ratings & Reviews", tap the stars to rate, and below that, click "Write a review".
Android/Desktop:
Click here to go to Podchaser, and then click "Rate Podcast".